Syndromes associated with mitochondrial DNA depletion
Italian Journal of Pediatrics
2014
40:34
Received: 19 November 2013
Accepted: 28 March 2014
Published: 3 April 2014
Abstract
Mitochondrial dysfunction accounts for a large group of inherited metabolic disorders most of which are due to a dysfunctional mitochondrial respiratory chain (MRC) and, consequently, deficient energy production. MRC function depends on the coordinated expression of both nuclear (nDNA) and mitochondrial (mtDNA) genomes. Thus, mitochondrial diseases can be caused by genetic defects in either the mitochondrial or the nuclear genome, or in the cross-talk between the two. This impaired cross-talk gives rise to so-called nuclear-mitochondrial intergenomic communication disorders, which result in loss or instability of the mitochondrial genome and, in turn, impaired maintenance of qualitative and quantitative mtDNA integrity. In children, most MRC disorders are associated with nuclear gene defects rather than alterations in the mtDNA itself.
The mitochondrial DNA depletion syndromes (MDSs) are a clinically heterogeneous group of disorders with an autosomal recessive pattern of transmission that have onset in infancy or early childhood and are characterized by a reduced number of copies of mtDNA in affected tissues and organs. The MDSs can be divided into least four clinical presentations: hepatocerebral, myopathic, encephalomyopathic and neurogastrointestinal. The focus of this review is to offer an overview of these syndromes, listing the clinical phenotypes, together with their relative frequency, mutational spectrum, and possible insights for improving diagnostic strategies.
Keywords
Mitochondrial DNA depletion syndrome
Mitochondrial myopathy
Mitochondrial encephalomyopathy
Hepatocerebral syndrome
mtDNA
OxPhos
Alpers-Huttenlocher syndrome
Introduction
Mitochondria, present in almost all eukaryotic cells, are dynamic cellular organelles specifically involved in the production of cellular energy via the mitochondrial respiratory chain (MRC) and the oxidative phosphorylation (OxPhos) system. In addition to their most important function, ATP production, mitochondria are involved in the regulation of other cellular pathways such as calcium homeostasis, apoptosis and programmed cell death [1].
Mitochondrial disorders are a group of genetically and phenotypically pleiomorphic disorders with an estimated incidence of between 1:5,000 and 1:10,000 live births [2]; they are often attributable to OxPhos system dysfunction, which leads to a deficiency in ATP production.
The MRC is regulated through the interaction of two physically and functionally separate genomes: the nuclear DNA (nDNA) and the mitochondrial DNA (mtDNA) genomes. Of the estimated > 1000 proteins making up the mitochondrial proteome [3] (see also http://www.broadinstitute.org/pubs/MitoCarta/human.mitocarta.html), about 92 nDNA-encoded ones are the structural subunits forming the five multiprotein complexes embedded in the inner mitochondrial membrane. Human mtDNA encodes 13 subunits of the OxPhos complex, two ribosomal RNA (rRNA) genes and 22 transfer RNA (tRNA) genes, all of which are required for initiating protein translation and synthesis [4]. Therefore, although human mtDNA codes for the basic machinery of protein synthesis, a number of nuclear-encoded factors (including the enzymes for replication, repair and transcription) are also needed to allow protein translation. This dependency lies at the heart of several recently recognized human diseases that are characterized by secondary abnormalities of mtDNA. Cross-talk between the nDNA and mtDNA genomes is crucial for the maintenance of qualitative and quantitative mtDNA integrity and for correct mitochondrial protein production. Multiple deletions, depletion, or a combination of the two in critical tissues, are "hallmarks" of disease conditions arising from disrupted communication between these two genomes. Since a congruous amount of mtDNA is required to produce the key subunits of MRC complexes, mtDNA depletion will result in organ dysfunction due to insufficient synthesis of the respiratory chain components needed for adequate energy production [5].
The mtDNA depletion syndromes (MDSs) are a heterogeneous group of autosomal recessive disorders, characterized by low mtDNA levels in specific tissues. These syndromes are a consequence of defects in mtDNA maintenance caused by mutations in nuclear genes involved in either nucleotide synthesis (
TK2, SUCLA2, SUCLG1, RRM2B, DGUOK, MPV17
and
TYMP
) or mtDNA replication (
POLG, C10orf2
). The first of the above groups of genes produces proteins that maintain the mitochondrial deoxynucleotide triphosphate (dNTP) pool; dNTPs can be synthesized via either the
de novo
pathway (cell cycle-regulated) or the salvage pathway (in which their production involves the utilization of preexisting deoxynucleosides to synthesize DNA precursors). Given that mtDNA replicates continuously and independently of cell division, mutations in any of the genes responsible for maintaining the dNTP pool will result in mtDNA depletion (Figure
1
). Mutations in
POLG
, the gene encoding the DNA polymerase gamma (POL γ), which is required for replication and repair of mtDNA, as well as mutations in
C10orf2
(Twinkle), a mitochondrial helicase, result in impaired mitochondrial protein synthesis and an incapacity to supply sufficient mtDNA to daughter cells during cell divisions; this, in turn, leads to a reduction of mitochondrial genome content [
6
].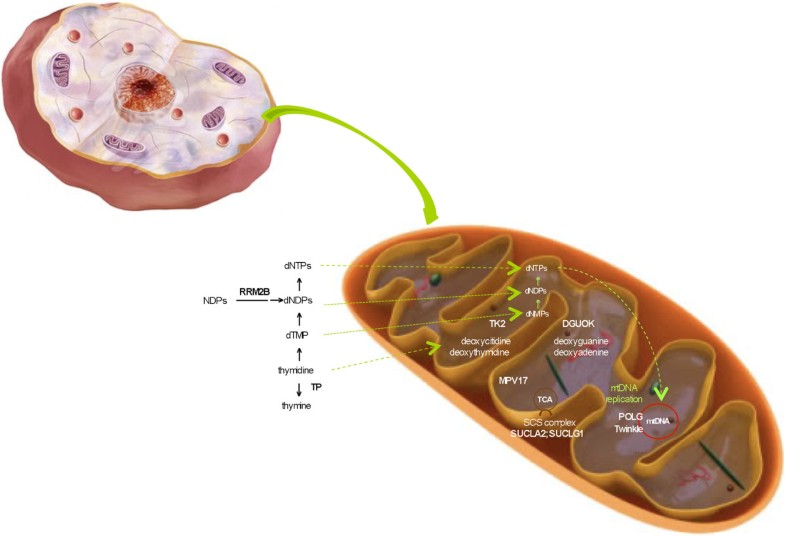 The MDSs are rare, devastating diseases that manifest typically, although not exclusively, soon after birth, and usually lead to death in infancy or early childhood. Although they often manifest themselves in a tissue-specific manner [7], it is not unknown for multiple organs, including the heart, brain, and kidneys, to be affected [8].
This paper sets out to provide an overview of the clinical manifestations and molecular etiologies of the nuclear defects involved in MDSs and to offer possible insights for improving diagnostic strategies.
The mtDNA depletion syndromes – clinical manifestations
The MDSs are usually classified as myopathic, encephalomyopathic, hepatocerebral or neurogastrointestinal [
9
]. Table
1
summarizes the main clinical manifestations and molecular etiologies associated with these different forms.
Table 1
Relative frequency of mutations associated with the different mitochondrial DNA depletion syndromes (MDS, source: HGMD Professional database: http://www.hgmd.cf.ac.uk/ )
Mitochondrial DNA depletion syndromes

Period of onset

Clinical features

Genes (aliases)

Chromosomal LOCI

Numbers of mutations

References*

Hepatocerebral mtDNA depletion syndrome

Neonatal, early childhood

Hepatic dysfunction; psychomotor delay; hypotonia; lactic acidosis; nystagmus; neurological dysfunction

POLG (Polg1/PolgA)

15q25

8

[10]

C10orf2 (Twinkle/PEO1)

10q24

3

[11]

DGUOK (dGK)

2p13

51

[12]

MPV17 (SYM1)

2p23.3

28

[13]

TK2

16q22-q23.1

1

[14]

Alpers-Huttenlocher syndrome

Early childhood

Hepatic dysfunction; epilepsia partialis continua; neurological dysfunction

POLG (Polg1/PolgA)

15q25

54

[15]

Myopathic mtDNA depletion syndrome

Infancy, early childhood

Hypotonia; muscle weakness; dysarthria and dysphagia; failure to thrive

POLG (Polg1/PolgA)

15q25

1

[5]

TK2

16q22-q23.1

34

[16]

RRM2B (p53R2)

8q23.1

3

[5]

DGUOK (dGK)

2p13

1

[17]

Encephalomyopathic mtDNA depletion syndrome

Infancy

Hypotonia; muscle weakness; psychomotor delay; sensorineural hearing impairment; lactic acidosis; neurological dysfunction

RRM2B (p53R2)

8q23.1

14

[18]

TK2

16q22-q23.1

1

[19]

SUCLA2

13q12.2

9

[20]

SUCLG1

2p11.3

13

[21]

Mitochondrial neurogastrointestinal encephalomyopathy

Late childhood, adolescence

Gastrointestinal dysmotility; weight loss; peripheral neuropathy;ptosis; neurological dysfunction

TYMP (ECGF1)

22q13

81

[22]

RRM2B (p53R2)

8q23.1

2

[23]

POLG (Polg1/PolgA)

15q25

1

[24]
MDS - diagnostic approaches
The suspicion of MDS is usually based on the clinical presentation, which may range from well-defined syndromes to non-specific multisystem phenotypes, and usually includes neurological involvement. Establishing a specific MDS diagnosis is challenging and requires the integration of clinical assessments, family history, biochemical testing and histopathological examination in affected tissues. It is important to obtain the appropriate biochemical and clinical information before starting any molecular investigations in order to increase the chances of a successful molecular diagnosis. Biochemical determination of MRC complexes is also important, although the results can be normal if skeletal muscle is not among the affected tissues. Quantitative real-time PCR quantification of total mtDNA content in affected tissues, using a nuclear gene as reference, is a prerequisite for correct interpretation of the amount of mtDNA present, although it is important, given the dynamic nature of mtDNA copies in different ages and tissues, to select appropriate age-matched control materials [
51
]. A reduction in mtDNA copy number to 60-65% of the average recorded in age-matched controls is the empirical cut-off level for a diagnosis of primary MDS. However, the reduction could be even greater, with mtDNA levels in most patients being about 20-25% of age-matched normal controls. Biochemical data, such as lactate, pyruvate, alanine and organic acid profiles, as well as neuroimaging findings, are also important diagnostic clues. Serum CK is elevated particularly when mutations occur in
TK2
; serum thymidine is impaired in
TYMP
, and mildly elevated levels of urinary methylmalonic acid and methylcitrate occur in disorders linked to
SUCLA2
or
SUCLG1
[
6
]. Figure
2
summarizes the diagnostic algorithm in syndromes associated with mitochondrial DNA depletion. Reaching a full molecular characterization is also important for adopting appropriate therapies: the detection of changes in
POLG
and
C10orf2
in toddlers with severe drug-resistant epilepsy should prompt consideration of the risk of valproate (VPA)-induced liver toxicity [
52
].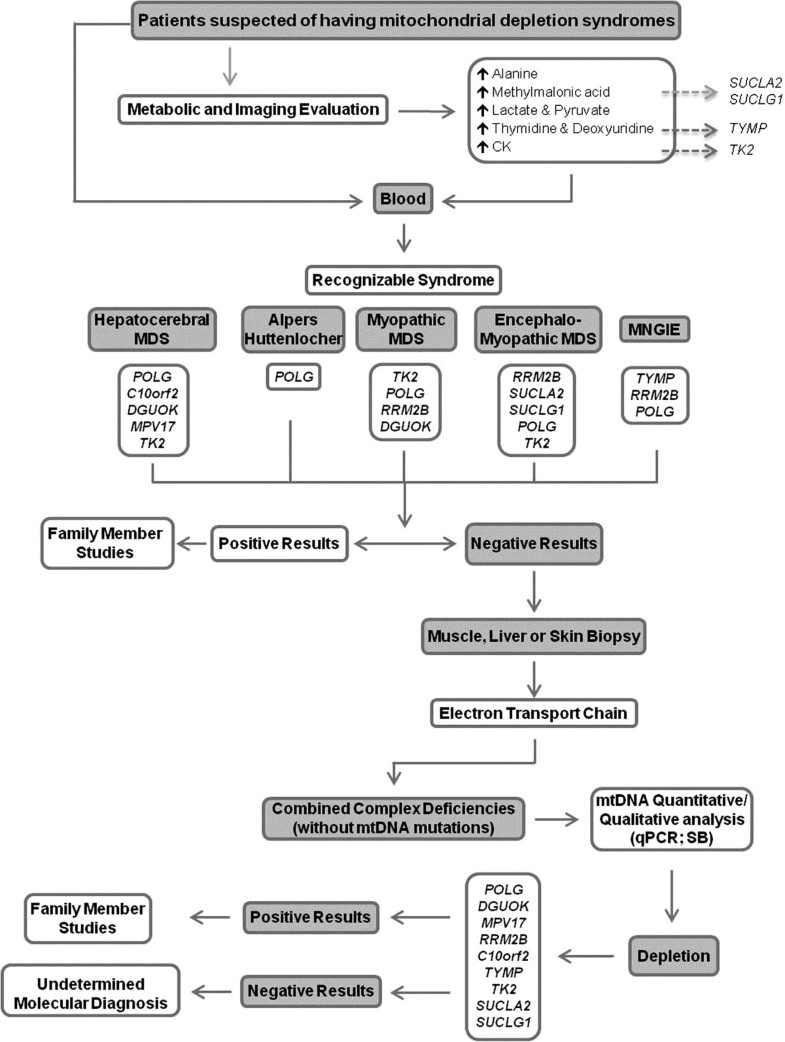 MDS - therapeutic considerations
The management of mitochondrial diseases is largely supportive, given that there exists no "magic pill" [53]. Palliative treatments with vitamins, cofactors and respiratory substrates have been used, but they showed poor efficacy. In recent years several approaches have been adopted, mostly involving modulation of the different pathways regulating mitochondrial biogenesis [39], but they have yet to be applied in the clinic. Meanwhile, some therapeutic avenues have been tried in clinical practice, although none has shown evidence-based efficacy.
Liver transplantation may be beneficial to patients with hepatopathy caused by DGUOK mutations if no neurological symptoms have developed. However, it would be contraindicated in the presence of significant hypotonia, psychomotor retardation or nystagmus [31]. In patients with MPV17, and in VPA-induced organ failure, transplantation has increased quality of life and life expectancy in some patients [5, 54], but liver-transplanted children may go on to develop neurological symptoms [55, 56]. A controlled diet, avoiding hypoglycemia, has been proposed to slow down disease progression and allow supportive care [57]. Some improvement was suggested with succinate or coenzyme Q10 together with a lipid-rich diet [58]. Furthermore, folate levels may be deficient in the CSF of some patients and detection of low folate in the CSF may prompt replacement therapy [59]. Levocarnitine, creatine monohydrate, coenzyme Q10, B vitamins, and antioxidants, such as alpha lipoic acid, vitamin E, and vitamin C, have often been used as pro-energy supplements in mitochondrial disorders in general and in MDS in particular, but longer follow-ups are necessary to evaluate the opportuneness of recommending such dietary interventions [53]. In MNGIE, a correlation between plasma thymidine levels and the severity of the phenotype has been observed [60]. Therefore, attempts to reduce the circulating nucleotide levels could result in disease improvement. Enzyme replacement therapy has been used in MNGIE: infusions of platelets from healthy donors reduced circulating thymidine and deoxyuracile levels and partially restored TP activity. The limitation of this therapy was the short half-life of the platelets [61]. Allogeneic stem cell transfusions have been given to two patients with MNGIE [62, 63]; although more experience is needed to illustrate the clinical benefit of this treatment, it opens up a therapeutic possibility for disorders of nucleoside metabolism. Finally, continuous ambulatory peritoneal dialysis has also been used in MNGIE to reduce thymidine levels, and this treatment improved symptoms during a three-year follow-up [64].
Concluding remarks
A mitochondrial disease manifesting at, or soon after, birth is more likely to be associated with nDNA than with mtDNA mutations [39], but until very recently our ignorance regarding the mechanisms underlying mitochondrial gene transcription and translation and the complex interaction between the "two genomes" limited our diagnostic power.
Mitochondrial DNA depletion, which can result from any imbalance in the mitochondrial nucleotide pool available for mtDNA replication, as well as abnormalities in mitochondrial replication machinery, has become an increasingly important cause of a wide spectrum of infantile and childhood-onset tissue-specific and multisystem disorders [65]. Consistent with the different phenotypes, mtDNA depletion may affect a specific tissue type (most commonly brain and muscle or liver tissue) or multiple organs, including the heart and kidneys. More than 75% of MDS patients develop full-blown disease within the first year of life, and it is rapidly fatal in most cases [11, 66]. Identifying the causative genes is important not only to allow adequate antenatal options, family planning and prenatal diagnosis, but also to improve understanding of the disease pathophysiology and, therefore, improve therapeutic options. From this perspective, the recent advances in the clinical use of next generation sequencing (NGS) technologies will likely facilitate molecular diagnosis of these conditions in the coming years [67–69]. Since NGS is becoming a feasible option in several Mendelian disorders and inborn errors of metabolism [70], it promises to allow the identification of a greater number of patients with mitochondrial disorders as well [71, 72]. This would likely resolve some of the open issues emerging from clinical practice in this field, which include difficulties in diagnosing the conditions and in providing adequate counseling, and unpredictable prognoses. An accurate and focused diagnostic workup would also save health-related resources and family distress. Only by achieving a full understanding of the molecular basis of MDS will we be able to gather insights for novel and effective therapeutic strategies.
Declarations
Acknowledgments
CN was supported by the Portuguese Foundation for Science and Technology (SFRH/BD/45247/2008). LSA was supported by the Portuguese Foundation for Science and Technology (FCT C2008/INSA/P4). We thank Catherine J. Wrenn for her expert language editing.
Authors' Affiliations
(1)
National Institute of Health, Genetics Department, Research and Development Unit, Porto, Portugal
(2)
IRCCS Stella Maris, Molecular Medicine for Neuromuscular and Neurodegenerative Diseases, Pisa, Italy
(3)
ICBAS-Instituto de Ciências Biomédicas de Abel Salazar, University of Porto, Porto, Portugal
(4)
Department of Child Neurology and Neurogenetics, IRCCS Stella Maris, University of Pisa, Calambrone, Pisa, Italy
(5)
Newborn Screening Metabolism and Genetics Unit, Department of Genetics, National Institute of Health, Porto, Portugal
Copyright
© Nogueira et al.; licensee BioMed Central Ltd. 2014
This article is published under license to BioMed Central Ltd. This is an Open Access article distributed under the terms of the Creative Commons Attribution License (http://creativecommons.org/licenses/by/2.0), which permits unrestricted use, distribution, and reproduction in any medium, provided the original work is properly credited. The Creative Commons Public Domain Dedication waiver (http://creativecommons.org/publicdomain/zero/1.0/) applies to the data made available in this article, unless otherwise stated.