Proton radiotherapy for pediatric tumors: review of first clinical results
Italian Journal of Pediatrics
2014
40:74
Received: 26 March 2014
Accepted: 4 August 2014
Published: 26 September 2014
Abstract
Radiation therapy is a part of multidisciplinary management of several childhood cancers. Proton therapy is a new method of irradiation, which uses protons instead of photons. Proton radiation has been used safely and effectively for medulloblastoma, primitive neuro-ectodermal tumors, craniopharyngioma, ependymoma, germ cell intracranial tumors, low-grade glioma, retinoblastoma, rhabdomyosarcoma and other soft tissue sarcomas, Ewing's sarcoma and other bone sarcomas. Moreover, other possible applications are emerging, in particular for lymphoma and neuroblastoma. Although both photon and proton techniques allow similar target volume coverage, the main advantage of proton radiation therapy is to sparing of intermediate-to-low-dose to healthy tissues. This characteristic could translate into clinical reduction of side effects, including a lower risk for secondary cancers. The following review presents the state of the art of proton therapy in the treatment of pediatric malignancies.
Keywords
Proton radiotherapyPediatric tumorsLate effectsSecondary tumors
Review
Introduction
Recent therapy progress has improved life expectancy in pediatric cancer patients, with a 5-year overall survival (OS) that increased from 39% in 1960 higher than 80% in 2004 [1]. Radiotherapy (RT) is a fundamental part of the multimodality treatment applied to achieve local (LC) and regional control in solid malignancies. Unfortunately, as survivors live longer, they are at risk of experiencing late effects from their treatments, including radiation. For this reason, several combined approaches with chemotherapy and surgery have been used to avoid or reduce RT. Despite of this, many children require radiation and remain at high risk for developing a multitude of serious long-term sequelae that result in psychological – social problems and reduce the quality of life of survivors [2].
Protontherapy (PT) is an external RT modality that uses protons instead of photons. These charged particles are accelerated by a cyclotron or synchrotron to reach high energies. When a proton beam enters the body, it delivers a constant dose all through the end of the range where all the remaining energy is deposited within a few millimeters (Bragg peak). The energy and the intensity of the beam can be varied to obtain a longitudinal translation (SOBP: spread–out Bragg peak) and cover the entire target volume. In comparison to high-energy photon treatment, the potential advantages of protons include distal dose fall off, without dose beyond the end of the range, reduction of the dose proximal to the target and reduction of the integral dose (Figure
1
). Biologically, protons have not demonstrated a significant advantage over photons, with a relative biological effectiveness of protons of 1.1 compared to photons (1Gy radiobiological equivalent (RBE) = 1Gy × 1.1) [
3
]. Therefore, tumor control is predicted to be the same for both techniques, but the physical properties of protons allow a better sparing of normal tissues, with the consequent reduction of acute and late toxicities. This ability is particularly important during pediatric age, when the growing organs are very sensitive to radiation effects.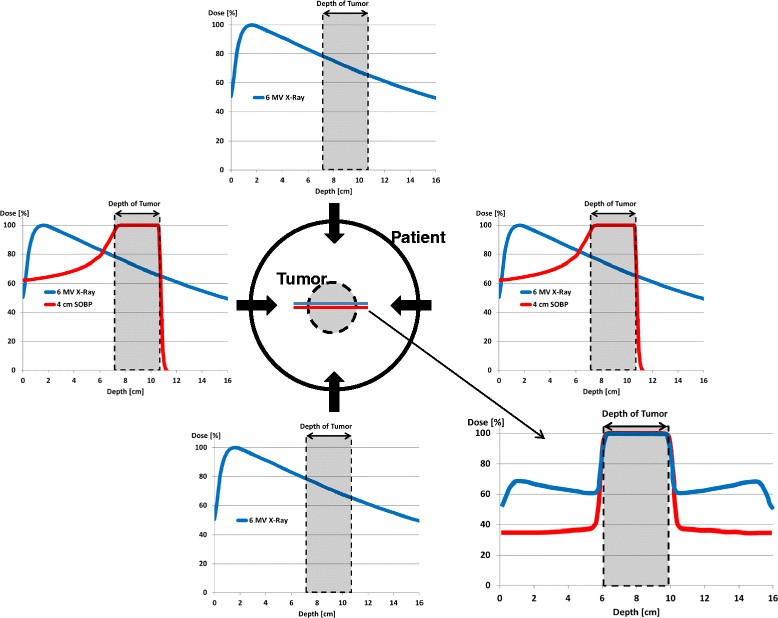 The long life expectancy of survivors and the presence of genetic mutations that induce malignancies (e.g. the RB gene mutation in retinoblastoma) are two factors that cause a significant risk for secondary cancers. The incidence of radiation-induced tumors expected to be reduced using PT, but longer follow-ups are needed for a clinical evidence [4]-[6].
In a recent review [7], Merchant pointed out some controversial aspects regarding the clinical use of proton therapy for pediatric tumors: the limited number of proton centers which are not geographically well-distributed in the United States country, the lack of proton treatment availability in a timely way, the radiobiological uncertainties of protons might mean substantial differences in dose-volume histogram for proton and photon and that require a better understanding of the radiobiological differences between the two modalities. He concluded that the real benefit of proton over photon therapy based on toxicity reduction would only be realized once proton therapy data will be available for comparison with best existing photon outcome data.
For a definitive spread of this radiation modality, the benefits of protons should be evaluated by results from clinical trials. To date, nearly all-exiting studies on Children's Oncology Group (COG) for pediatric sarcoma including RMS, CNS tumors, Neuroblastoma, allow proton therapy as radiation treatment modality. In other countries, PT is not always a recognized as integral component of clinical trials. Up to now, although the clinical use of protons has grown, the proportion of patients treated by protons remains still small. One of the reasons is that many proton accelerators were not hospital-based, and were unable to accommodate children that required daily anesthesia and a proton treatment in a timely manner. Another aspect is that the allocation of proton treatment slots in US depends mostly on insurance status. The patients who have proton treatments reimbursed by insurance are significantly smaller than the population who should receive PBT [8].
There are also some physical aspects to consider: as proton technology is still evolving, PT facilities face many issues regarding the treatment planning and targeting of protons. Some of them are: to predict dose deposition due to range uncertainties by modern treatment planning system, the impact of anatomical changing tissue density during proton treatment, breathing, uncertainty regarding RBE [9]. Concern has also been raised about introducing this expensive technology into medical practice and the potential impact on the cost of health care. It is worth noting that while the initial cost of treatment with protons is higher than that of photon therapy, reduced side effects resulting an overall cost savings over a lifetime.
Currently, PT is used in the treatment of intracranial tumors such as ependymoma, medulloblastoma, primitive neuro-ectodermal tumors (PNET), craniopharyngioma, germinoma, and low-grade glioma. Regarding extracranial malignancies, PT is used in case of retinoblastoma, soft-tissue and bone sarcomas of head and neck and paraspinal or pelvic regions. The first clinical results of PT in pediatric oncology are described in the next section.
Conclusions
RT is effective in increasing local control in several pediatric tumors, but it is often associated with severe late effects, including secondary tumors. The physical advantages of protons, which decrease the dose to healthy tissues, are promising in achieving significant clinical benefits. Dosimetric comparison studies pointed out the superiority of protons over photons in several tumor locations. Clinical data are still limited, but the first evidence generally confirmed an outcome similar to historic photon cohort, but better tolerance to PT and few side effects, that could have positive impact also on the survivors' quality of life.
Several proton facilities have started their activity during the last decade and new centers are planned worldwide. The spread of the PT centers in the near future will make this technology easily accessible to pediatric patients. With the increase of follow-up time, the evidence in favor of PT could become more solid. Specialized teams of radiation oncologists, medical physicists, anesthesiologists, psychologists and nurses are needed and new observational protocols should be designed to investigate the benefits on late toxicity and quality of life.
Abbreviations
RT:

Radiotherapy
PT:

Protontherapy
IMRT:

Intensity modulated radiotherapy
IMPT:

Intensity modulated protontherapy
3D-CPT:

Three dimensional conformal proton therapy
3D-CRT:

Three dimensional conformal radiotherapy
RBE:

Radiobiological equivalent
OAR:

Organ at risk
OS:

Overall survival
LC:

Local control
PFS:

Progression-free survival
CSI:

Craniospinal irradiation
PNET:

Primitive neuro-ectodermal tumors
NGGCT:

Non-germinomatous germ cells tumors
HL:

Hodgkin's lymphoma
Declarations
Acknowledgements
The authors would like to thank Dr. Valentina Piffer for her English revision of the text.
Authors' Affiliations
(1)
Unità Operativa di Protonterapia, Azienda Provinciale per i Servizi Sanitari (APSS), Trento, Italy
(2)
Dipartimento di Medicina, Università di Padova, Padova, Italy
Copyright
© Rombi et al.; licensee BioMed Central 2014
This article is published under license to BioMed Central Ltd. This is an Open Access article distributed under the terms of the Creative Commons Attribution License (http://creativecommons.org/licenses/by/4.0), which permits unrestricted use, distribution, and reproduction in any medium, provided the original work is properly credited. The Creative Commons Public Domain Dedication waiver (http://creativecommons.org/publicdomain/zero/1.0/) applies to the data made available in this article, unless otherwise stated.