Gastrointestinal function development and microbiota
Italian Journal of Pediatrics
2013
39:15
Received: 20 November 2012
Accepted: 14 February 2013
Published: 24 February 2013
Abstract
The intestinal microbiota plays an important role in the development of post-natal gastrointestinal functions of the host. Recent advances in our capability to identify microbes and their function offer exciting opportunities to evaluate the complex cross talk between microbiota, intestinal barrier, immune system and the gut-brain axis. This review summarizes these interactions in the early colonization of gastrointestinal tract with a major focus on the role of intestinal microbiota in the pathogenesis of feeding intolerance in preterm newborn. The potential benefit of early probiotic supplementation opens new perspectives in case of altered intestinal colonization at birth as preventive and therapeutic agents.
Keywords
Intestinal microbiotaFeeding intoleranceMicrobial effect on gastrointestinal function development
Introduction
In the human gut resides the microbiota, a large and diverse community of microorganism, dominated by bacteria, known to have a critical role in the evolution of the intestinal functions and in overall health of the host [1].
The bacterial cells far outnumber the human cells of the host that harbors them and the total amount of genes in the various species represented in our indigenous microbial communities is estimated about 2–4 million, exceeding the number of our human genes >100-fold [2]. Through expression of this exceptional quantity of genes, whose totality is termed the "microbiome", intestinal bacteria can execute numerous enzymatic reactions that the mammalian host is not able to catalyze. This is the reason why the microbiota is now considered as an "organ within an organ", with its own functions: it modulates expression of genes involved in mucosal barrier fortification, angiogenesis and postnatal intestinal maturation. It also has a critical role in supporting normal digestion and affects energy harvest from the diet and energy storage in the host, fermenting unused energy substrates to short chain fatty acids (SCFAs) [3].
Microbial functions are intimately strain-related and even different strains of a single species may differ in the effects they produce.
Primary colonization of the gut can be regarded as an important stage of development of intestinal functions and the transference of the microbiota at birth from maternal vaginal and intestinal flora comprises a hereditary succession of a parallel genome [4].
A large interface between the external environment and the mammalian host is represented by the intestinal epithelium. The complex cross-talk between the gut and its microbial content is a normal part of development and plays a determinant role in the capacity to distinguish potentially dangerous from harmless bacterial and food antigens. This function requires sophisticated sensor systems to be responsive to a wide variety of microbial and food antigens that transits or populates the GI tract [5].
The intestinal microbiota possesses an immunomodulatory capacity, affecting a variety of signaling pathways with modulation of proper immune, inflammatory and allergic responses. An imbalance of normal intestinal microbiota, or the host response to such an imbalance are considered to be involved in the pathogenesis of a variety of intestinal disorders [6].
Intestinal colonization
Newborn infants exit the uterus and enter an extrauterine environment filled with microbes. The gastrointestinal tract of a normal fetus is generally thought to be sterile. However, recent studies using molecular techniques are suggesting that the fetal intestine may be exposed to microbes via swallowing of colonized amniotic fluid [7, 8]. Occult microbes in amniotic fluid may be associated with preterm labor and premature rupture of membranes.
Despite ongoing studies to determine the qualitative and the quantitative state of microorganisms in amniotic fluid, this new aspect of fetal gut colonization remains a largely unexplored area. The finding of microbial DNA in meconium of preterm infants offers the opportunity to further explore the intraamniotic microbial milieu of newly born infants [9].
During delivery, bacteria from maternal vaginal and intestinal microbiota in vaginal birth or from maternal skin surface and the surrounding environment in cesarean section, colonize the gut of the newborn with different microbial strains [10]. A great number of bacteria, both beneficial and harmful, can colonize the gastrointestinal tract. Some bacteria family are common pathogens, such as Clostridiacea, Pseudomonadaceae and Staphylococcaceae.Others can be either pathogenic or beneficial such as Bacterioidaceae and Enterobacteriaceae. Still others are thought to be primarily beneficial, most commonly Lactobacillaceae and Bifidobacteriaceae.
Although vary studies have been performed to sample the general composition of the infant gut, the real microbial biodiversity still remain controversial and unknown; caution must be applied in the interpretation of the different results obtained by both culture-dependent and metagenomic techniques, due to technical biases [11].
According to delivery mode, caesarean section delivered newborns, that are deprived of contact with maternal vaginal microbiota, have a deficiency of strict anaerobes with lower numbers of E. coli, Bacteroides and Bifidobacteria and an higher presence of facultative anaerobes such as Clostridium species, compared with vaginally born infants [12].
Also infant's gestational age at birth seem to have significant effects on the intestinal microbiota [13]. It's now clear that the pattern of bacterial colonization in the preterm neonatal gut differs from that in the healthy, full-term neonatal gut. This aberrant colonization, mostly due to the routine use of sterile formula and antibiotics in neonatal intensive care unit (NICU), could have a central role in feeding intolerance and in development of necrotizing enterocolitis (NEC), a devasting disease affecting primarily premature infants [14].
Afterwards, in the early stage of life, the composition of the intestinal microbiota undergoes major modifications, mostly influenced by the feeding pattern [10]. Gastrointestinal flora composition differs substantially in breast-fed infants and formula-fed infants because of the differences in composition between human milk and standard infant formula. For example, breast milk-fed infant microbiota is composed by an increased number of bifidobacteria and lactobacilli, whereas formula-fed infant microbiota has more enterococci and enterobacteria. This difference is thought to be due to the breast milk composition of molecules with antimicrobial activity and prebiotic oligosaccharides, thought to have a beneficial role for the infant [15, 16]. Furthermore, there is accumulating evidence that human milk is not sterile but contains maternal derived bacterial molecular motifs that are thought to influence the newborn's immune system development. This procedure is called "bacterial imprinting", and its overall biological effect requires further study [17, 18].
The initial bacterial colonization after birth, and its change according to environment, nursing, weaning and drugs, plays a crucial function in the final development of the gut with large shifts in the relative abundances of taxonomic groups. The composition of microbiota undergoes significant changes in infancy. Some authors observed a gradual increase in diversity over time, with a discrete steps of bacterial succession according to similar life events [19].
The gut interacts with intestinal bacteria to mature protective mechanisms against harmful molecules (via improving barrier gut functions, motility and immune stimulation) and appropriate, non-exaggerated responses versus commensal bacteria and nutrients (via immune-modulation and immune-tolerance) [
20
]. The mechanisms of this interaction between host and bacteria are increasingly being unrevealed. An aberrant bacterial colonization may be a coexisting factor in feeding intolerance in newborn. The exact effects of bacterial colonization in pathophysiology of feeding intolerance is based on the post-natal uncorrect ontogenesis of the intestinal barrier, of the immune responses and of sensori-motor functions of the gut [
21
] Figure
1
.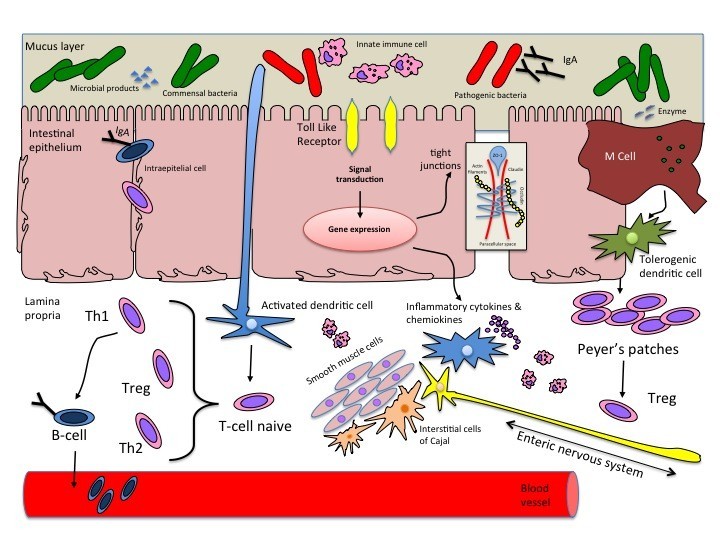 Microbiota modulation on development of gastrointestinal functions
Conclusion
The intestine serves as a vast interface between our internal milieu and external environments. Evidence is rapidly accumulating that the microbes residing within the intestinal tract play major roles in the ontogenesis of the immune system, and interact with the gut as well as the central nervous systems.
An aberrant microbial colonization with consequential immaturity in development of immune and neuronal pattern of gastrointestinal tract may be a coexisting cause of feeding intolerance. Abnormal colonization should constantly be kept in mind as an important environmental factor that predisposes to disease also later in life.
It is emphasized that the perinatal period most probably corresponds to a critical time at which "set points" are imprinted. More needs to be known about normal and healthy colonization patterns in newborns to promote these patterns and to avoid perturbations that result in lifelong disease.
Authors' Affiliations
(1)
Department of Pediatrics, University of Bari, Policlinico, Piazza G Cesare, Bari, Italy
(2)
University of Florida, Gainesville, USA
(3)
Lab of Experimental Pathophysiology, IRCCS Castellana Grotte, Castellana Grotte, Italy
(4)
University Federico II, Naples, Italy
Copyright
© Di Mauro et al.; licensee BioMed Central Ltd. 2013
This article is published under license to BioMed Central Ltd. This is an Open Access article distributed under the terms of the Creative Commons Attribution License (http://creativecommons.org/licenses/by/2.0), which permits unrestricted use, distribution, and reproduction in any medium, provided the original work is properly cited.