Melatonin: its possible role in the management of viral infections-a brief review
Italian Journal of Pediatrics
2013
39:61
Received: 20 August 2013
Accepted: 25 September 2013
Published: 3 October 2013
Abstract
Melatonin, a versatile molecule, is synthesized by the pineal gland but also by other organs, including gastrointestinal tract, retina, thymus, bone marrow, and by leukocytes. Besides playing an important role in various functions of the body, including sleep and circadian rhythm regulation, melatonin also shows immunoregulatory, free radical scavenger and antioxidant functions. Because of these latter characteristics melatonin has also been found to be effective in fighting viral infections in a variety of experimental animal and in vitro studies. These data suggest a possible therapeutic potential of melatonin in human virus-induced disorders.
Keywords
AntioxidantInflammationEncephalitis virusesRespiratory syncytial virus
Introduction
Melatonin (N-acetyl-5-methoxytryptamine) is the major neurohormone secreted by the pineal gland [
1
,
2
]. Initially, it was reported as a skin lightening agent in amphibians [
3
,
4
]. Further investigations showed that other functions of the molecule were the regulation and reset of circadian rhythms with involvement in the measurement of day length, an environmental variable used for seasonal timing of reproduction, metabolism and behavior in animal species [
5
–
7
] (Figure
1
). Acting virtually in every cell in the organism, melatonin has been reported to possess numerous additional functions, being involved in sleep initiation, vasomotor control, anti-excitatory actions, regulation of mitochondrial functions [
8
]. Melatonin and its metabolites were found to have also important immunomodulatory and antioxidant properties owing to their direct and indirect antioxidant actions, i.e. by scavenging free radicals and by upregulating antioxidant pathways [
9
–
12
].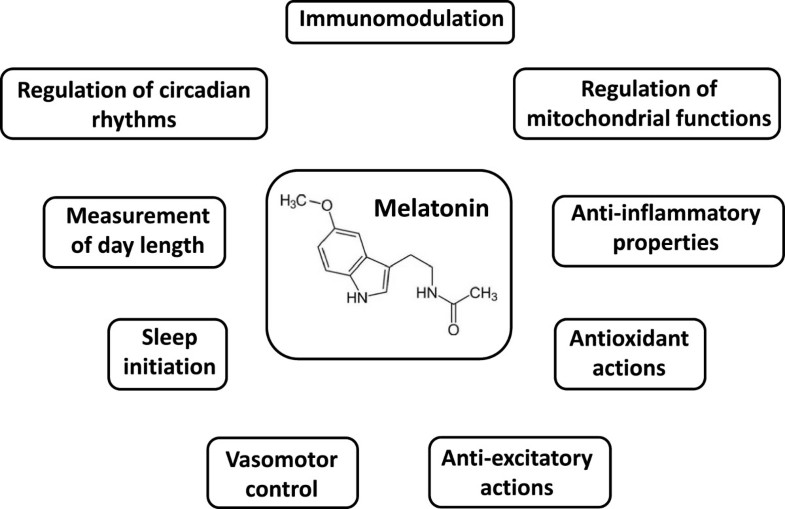 Conclusions
Modulation of the inflammatory response and of the reactive oxygen species production and of the related oxidative stress therefore represents a potential novel pharmacological approach to ameliorate the host reactions against viral infections and their long-term consequences [47, 48]. One possible weakness of melatonin is its short half-life and the relatively low levels in serum during day hours [11, 14]. Administration of melatonin to humans at pharmacological concentrations is essentially non-toxic, also in the neonatal period [49] and the results obtained in vitro and in experimental animals support a possible beneficial immunoregulatory and anti-oxidant role of this molecule in viral infection and address its possible therapeutic potential in human virus-induced diseases.
Abbreviations
NK cells:

Natural killer cells
IL-1:

Interleukin −1
TNF-α:

Tumor necrosis factor- α
NF-kB:

Nuclear factor-kappa B
CNS:

Central nervous system
RSV:

Respiratory syncytial virus
NO:

Nitric oxide
•OH:

Hydroxyl radical
MDA:

Malondialdehyde
GSH:

Glutathione
SOD:

Superoxide dismutases
iNOS:

Inducible nitric oxide synthase
TLR:

Toll-like receptor.
Authors' Affiliations
(1)
Pediatric Pulmonology and Allergy Unit, Istituto Giannina Gaslini, Genoa, Italy
Copyright
© Silvestri and Rossi; licensee BioMed Central Ltd. 2013
This article is published under license to BioMed Central Ltd. This is an Open Access article distributed under the terms of the Creative Commons Attribution License (http://creativecommons.org/licenses/by/2.0), which permits unrestricted use, distribution, and reproduction in any medium, provided the original work is properly cited.