Ataxia in children: early recognition and clinical evaluation
Italian Journal of Pediatrics
2017
43:6
Received: 30 October 2016
Accepted: 26 December 2016
Published: 13 January 2017
Abstract
Background
Ataxia is a sign of different disorders involving any level of the nervous system and consisting of impaired coordination of movement and balance. It is mainly caused by dysfunction of the complex circuitry connecting the basal ganglia, cerebellum and cerebral cortex.
A careful history, physical examination and some characteristic maneuvers are useful for the diagnosis of ataxia. Some of the causes of ataxia point toward a benign course, but some cases of ataxia can be severe and particularly frightening.
Methods
Here, we describe the primary clinical ways of detecting ataxia, a sign not easily recognizable in children. We also report on the main disorders that cause ataxia in children.
Results
The causal events are distinguished and reported according to the course of the disorder: acute, intermittent, chronic-non-progressive and chronic-progressive.
Conclusions
Molecular research in the field of ataxia in children is rapidly expanding; on the contrary no similar results have been attained in the field of the treatment since most of the congenital forms remain fully untreatable. Rapid recognition and clinical evaluation of ataxia in children remains of great relevance for therapeutic results and prognostic counseling.
Keywords
AtaxiaDiagnostic maneuversAcute cerebellitisCerebellar syndromeCerebellar malformations
Background
Ataxia in children is a common clinical sign of various origins consisting of impaired coordination of movement and balance with a lack of muscle control during voluntary activity [1, 2]. Ataxia is most frequently caused by dysfunction of the complex circuitry connecting the basal ganglia, cerebellum and cerebral cortex, and this type of involvement is recorded as "cerebellar ataxia." The term "sensory ataxia" [3, 4] refers to the dysfunction of the proprioceptive sensory activity correlated with the peripheral nerves or to the posterior columns of the spinal cord.
Clinical signs in cerebellar ataxic patients are related to impaired localization. Focal dysfunction of the cerebellar vermis displays truncal unbalance, nystagmus and head waddling, and the impairment of the cerebellar hemispheres results in an anomalous gait veering toward the affected side, with asymmetry of the ipsilateral extremities and a high-stepping gait. Involvement of afferent/sensory ataxia manifests as a stepping gait and sensory damage of the extremities.
How to recognize ataxia in children: common signs and maneuvers
Cerebellar ataxia may manifest with several signs and symptoms, the most common being a staggering gait, asynergic movements, dysmetria, nystagmus, intentional tremor and difficulty in forming speech. A through history and a careful clinical examination are important ways to recognize anomalous movements and to distinguish involvement of the cerebellum from other affected areas of the nervous system.
Typical signs and specific maneuvers may be of great help in revealing childhood ataxia. This can be evaluated in various conditions: in a sitting position, in which the affected child manifests a loss of truncal control, and during walking, in which the patient exhibits a tandem gait or a veering toward the affected side. The recognition of ataxia is particularly difficult in early childhood. The most common cerebellar symptom is unsteadiness of gait. The child stands with feet widely separated and rapidly lose his balance. On attempting to walk, the child sways and stops, and may walk backward. In some cases, incoordination of the eye movements may be present. After the age of 3 years, the semiology of ataxia is similar to that of adulthood. The coordination may be explored through typical maneuvers such as
finger to finger or finger to nose
, and rapid alternating hand movements (Fig.
1
).
Heal to knee
dysregulation (Fig.
2
) and dysmetria observed through errors in fixing the correct distance (too long or too short) may be of diagnostic value. Slurred speech, scarring and poor expression are signs of cerebellar involvement. Sensory tactile, painful, thermal, and profound evaluation must be registered; any abnormalities should accordingly be carefully checked.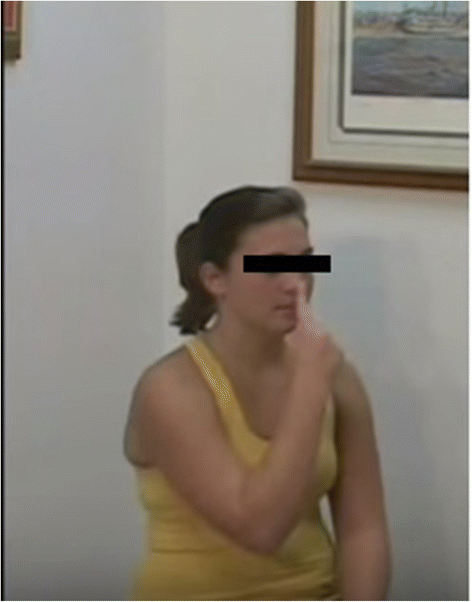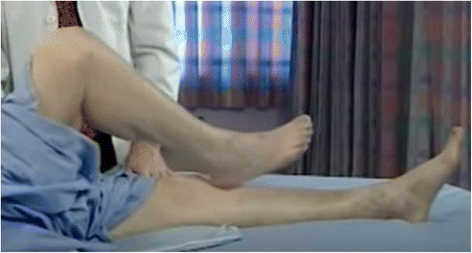 Two simple but useful maneuvers for revealing ataxia in children are the Romberg sign, expressed by the tendency to fall down with closed eyes in a holding position, and the test of
holding a full glass of water
with a steady hand without any of the water spilling (Fig.
3
) [
5
,
6
].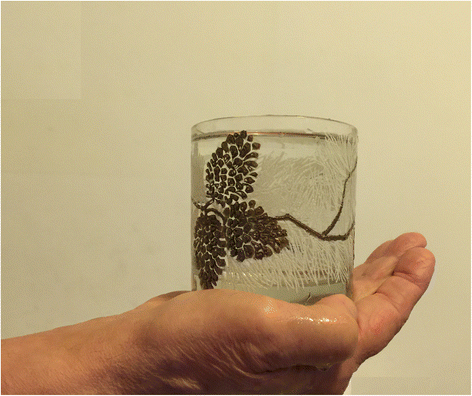 Many conditions may show ataxia as one of their primary clinical signs. In some case, ataxia may be expressed as a rapid and benign course, and it is sometimes manifested as a progressive and severe neurological involvement.
According to its etiology, ataxia may be displayed as a condition that is acquired, inherited or sporadic. The course of ataxia may be distinguished as being acute, intermittent and recurrent, chronic-non-progressive and chronic-progressive.
Temporal course distinction must be taken in a broad sense and with the awareness that the same disorder may have a different course, depending on the age of presentation, time of the diagnosis (precocious or late). This is particularly true for brain tumors that usually have a progressive course, but in very young children may present with a quite acute onset. At the same time, brainstem and cerebellar malformations are correctly included in the group of chronic non-progressive ataxias, but if the disorder is identified precociously, it could be included in the group of chronic progressive ones.
Ataxia in children as one of the main clinical signs of different disorders is reported in the following sections and discussed on the basis of its temporal course.
Treatment
Some advances have been obtained in some of the disorders with ataxia. Treatment of EAs with acetazolamide and GLT1SD with ketogenic diet gave good results [21, 22]. However, a really few hereditary diseases associated with ataxia may be fully treatable. Symptomatic treatment and supportive management may alleviate the course of these severe disorders.
Conclusions
Recognizing ataxia in children may be challenging. It may be overlooked mainly in very young children and erroneously related to a delay of coordination. Physical examination and correct maneuvers are useful for highlighting its clinical sign. The causal events of ataxia are several and have different outcomes that may range from transient and benign to particularly severe and frightening. Pediatricians must be skilled at differentiating treatable disorders from progressive, degenerative and devastating ones, some of which are singularly difficult to diagnose. For most of these disorders, there is no curative care available; only supportive treatment is suitable. A flowchart of the primary causes of ataxia is listed in Fig.
7
.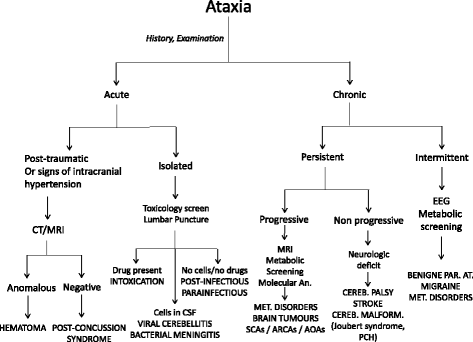 Declarations
Acknowledgement
Not applicable.
Funding
The authors did not receive any funding in the preparation of the manuscript.
Authors' contributions
PP and ADP wrote the manuscript; VP, RL and RF performed the literature review; RR and MR revised the manuscript. All authors read and approved the final manuscript.
Competing interests
The authors declare that they have no competing interests.
Consent for publication
Written informed consent was obtained from the patient's guardian/parent/next of kin for the publication of this report and any accompanying images.
Ethics approval and consent to participate
Not applicable.
Open AccessThis article is distributed under the terms of the Creative Commons Attribution 4.0 International License (http://creativecommons.org/licenses/by/4.0/), which permits unrestricted use, distribution, and reproduction in any medium, provided you give appropriate credit to the original author(s) and the source, provide a link to the Creative Commons license, and indicate if changes were made. The Creative Commons Public Domain Dedication waiver (http://creativecommons.org/publicdomain/zero/1.0/) applies to the data made available in this article, unless otherwise stated.
Authors' Affiliations
(1)
University-Hospital "Policlinico-Vittorio Emanuele", University of Catania, Catania, Italy
(2)
Department of Clinical and Experimental Medicine, Section of Pediatrics and Child Neuropsychiatry, University of Catania, Catania, Italy
(3)
Department of Biomedical and Biotechnological Sciences, University of Catania, Catania, Italy
(4)
Department of Orthopaedics, University of Catania, Catania, Italy
(5)
Department of Pediatrics, University "La Sapienza", Rome, Italy
(6)
Unit of Pediatrics and Pediatric Emergency, Azienda Ospedaliera Universitaria Vittorio Emanuele-Policlinico, University of Catania, Italy, Catania, Italy