A pediatric disease to keep in mind: diagnostic tools and management of bronchiectasis in pediatric age
Italian Journal of Pediatrics
2017
43:117
Received: 8 September 2017
Accepted: 5 December 2017
Published: 29 December 2017
Abstract
Bronchiectasis in pediatric age is a heterogeneous disease associated with significant morbidity.
The most common medical conditions leading to bronchial damage are previous pneumonia and recurrent lower airway infections followed by underlying diseases such as immune-deficiencies, congenital airway defects, recurrent aspirations and mucociliary clearance disorders.
The most frequent symptom is chronic wet cough. The introduction of high-resolution computed tomography (HRCT) has improved the time of diagnosis allowing earlier treatment.
However, the term "bronchiectasis" in pediatric age should be used with caution, since some lesions highlighted with HRCT may improve or regress. The use of chest magnetic resonance imaging (MRI) as a radiation-free technique for the assessment and follow-up of lung abnormalities in non-Cystic Fibrosis chronic lung disease is promising.
Non-Cystic Fibrosis Bronchiectasis management needs a multi-disciplinary team. Antibiotics and airway clearance techniques (ACT) represent the pillars of treatment even though guidelines in children are lacking. The Azithromycin thanks to its antinflammatory and direct antimicrobial effect could be a new strategy to prevent exacerbations.
Keywords
Children bronchiectasis; chronic wet coughHRCTMRIAntibioticsAzithromycinAirway clearance techniques
Background
Non-cystic fibrosis bronchiectasis (NCFB) is a chronic pulmonary disease characterized by a progressive and often irreversible bronchial dilatation, caused by structural changes in the bronchial wall and chronic airway inflammation.
The actual incidence is unknown but the prevalence has increased in developing countries and among lowest socioeconomic classes where the disease often shows an infectious etiology.
The highest NCFB prevalence is among children of indigenous populations, such as Australian aborigines, New Zealand Maoris, Alaskan natives and Pacific Islander children [1].
In this respect, two New Zealand studies over the period 1998–2002, one reporting national cases of chronic suppurative lung disease (CSLD) and other CSLD hospital admissions in Auckland, showed a considerable disproportion between the average annual incidence among Maori and Pacific Islander children (respectively 4.8–7.9/100,000 and 17.8–18.3/100,000) compared to European children (1.5/100,000). This difference seems to be directly related to the poor condition in which these populations live. The incidence among European populations is estimated to be around 0.2 / 100,000 in UK and 2,3/100,000 in Ireland [2].
Nevertheless, although NCFB is considered a disease of poverty, data on prevalence over the past two decades show that also in industrialized country this diagnosis is no longer so rare, probably thanks to advances in diagnostic techniques such as high-resolution computerized tomography (HRCT) [3].
The pathogenesis of NCFB is not fully known yet but seems to involve factors related to the host and microorganisms such as defective mucociliary clearance and persistent inflammation associated with bronchial persistent infection.
Historically bronchiectasis are defined as "cylindrical, varicose or cystic" by bronchographic imaging and these characterizations respectively seems to be correlated with an increased degree of severity [4]. In a systematic review involving 989 children, Brower et al. showed that 63% had an underlying disease [5].
Excluding Cystic fibrosis, previous pneumonia and recurrent lower airway infections are the most common causes of pediatric bronchiectasis; others risk factors includes primary immune deficiencies, primary ciliary dyskinesia (PCD), foreign body aspiration and structural airways abnormalities such as bronchomalacia and congenital tracheo-bronchomegaly (Table
1
) [
6
].
Table 1
Most common causes and associations of NCFB in pediatric age
CFTR mutations

Cystic fibrosis classic and atypical

Dysregulated immune function

Primary immune-deficiency

X-linked Agammaglobulinemia

Common variable immunodeficiency (CVID)

Hyper–immunoglobulin E syndrome or STAT3a deficiency

Primary Ciliary Dyskinesia (PCD)

PCD

Kartagener Syndrome

Post-Infectious disease

Bacterial Pneumonia

Recurrent respiratory tract infections

Protracted bacterial bronchitis (PBB)

Structural congenital malformations

Congenital tracheo-broncomegaly:

 Mounier-Kuhn syndrome

 William-Campbell syndrome

Congenital lobar emphysema

Bronchomalacia

Bronchial obstruction

Inhaled foreign body

Tumor

Mycobacterium

Associated conditions

Recurrent aspiration secondary to neuromuscular diseases

Tracheo-esophageal fistula or gastro-esophageal reflux

Others

Autoimmune diseases

 Inflammatory bowel disease

 Rheumatoid arthritis

 Coeliac disease

Clinical syndromes

 Marfan syndrome

 Usher syndrome

 Yellow nail lymphedema syndrome

 Young's syndrome
Children with Protracted Bacterial Bronchitis (PBB) exhibit a condition of persistent endobronchial infection and neutrophilic inflammation, known risk factors for the onset of NCFB. These factors have led to the hypothesis according to which the PBB and NCFB represent different stages of a single disorder [7].
Patients with PCD have a congenital abnormality of ciliary function that causes impairment of mucociliary clearance and chronic respiratory tract infections often beginning in the first years of life. A history of neonatal respiratory distress without prematurity and recurrent middle ear problems are both very evocative of diagnosis; chronic rhino-sinusitis and bronchiectasis may be observed among older children [8].
Bronchiectasis can also complicate primary and secondary immune-deficiencies. Defective immune function is associated with repeated, chronic and severe lung infections leading to recurrent episodes of airways inflammation, repair and ultimately structural damage.
Most frequent immune disorders include defective production or function of all immunoglobulin classes, individual classes or subclasses and defects of specific antibody production such as bacterial capsular polysaccharide [9].
Aspiration of gastrointestinal contents has been proved as a cause of bronchiectasis in both children and adults even though there are no case control studies of gastro-esophageal reflux as a risk factor for bronchiectasis in children [10]. Conversely, it is well known that children with neuromuscular diseases and/or degenerative pathologies often have a poor cough reflection efficiency that makes them more susceptible to recurrent aspiration of both gastric content and respiratory pathogens that cause recurrent endobronchial infections and subsequent bronchiectasis.
Clinical presentation
NCFB in children usually exhibits chronic respiratory symptoms.
Chronic wet cough is the commonest finding and may be present for many years before reaching a diagnosis. The likelihood of bronchiectasis increases if these symptoms are accompanied by exertional dyspnea, recurrent infections of the lower airways, hemoptysis and chest wall deformities [10]. Recurrent wheezing, dyspnea and growth failure are additional symptoms that may be associated with NCFB in pediatric age (Table 2) [3, 11, 12].
Repeated episodes of pulmonary exacerbations are also associated with progressive decline in lung function and reduced quality of life.
At present, there is no validated definitions of "exacerbation" in children with NCFB. Exacerbation criteria used in adults (increased cough, increased sputum volume and worsening of purulence) are less useful in children who are often unable to expectorate [13].
In a recent retrospective study involving 115 children with NCFB, Kapur et al. highlighted that an increase in cough frequency and modifications in its features, an increase of auscultation findings of crepitations and wheezing were useful clinical indicators of exacerbation [14].
Infections are common cause of exacerbations whose triggers can be either respiratory viruses or bacteria, hence an accurate etiological diagnosis might reduce the use of antibiotic therapy and the risk of resistance [15].
Diagnostic tools
No standardized method for classifying bronchiectasis has been defined in pediatric age, even though clinical, radiological and microbiological findings are usually used to quantify the disease severity [16].
A radiological diagnosis of bronchiectasis in the child should be done with caution since a radiological regression of lesions has been observed after treatment [11, 17]. Chest radiography has a poor diagnostic value and therefore a compatible clinical history should prompt additional investigation. Nevertheless, chest x-ray is usually the first imaging test used in the clinical suspect of NCFB and some studies have suggested that it is rarely completely negative in cases of clinically relevant lesions. For this reason, according to our opinion, performing a chest x-ray may be justified at the beginning of the diagnostic path [18].
High-resolution computerized tomography (HRCT) is the gold standard for the diagnosis of NCFB. The commonest HRCT findings include bronchial dilatation, bronchial wall thickening, lack of normal bronchial tapering, any bronchi with an internal diameter greater than the diameter of the accompanying pulmonary artery (signet ring sign) and bronchi visible closer than two centimeters to the pleural surface (Table
2
). In children a broncho-arterial ratio > 0,8 is considered typical of bronchiectasis (Fig.
1
) [
19
].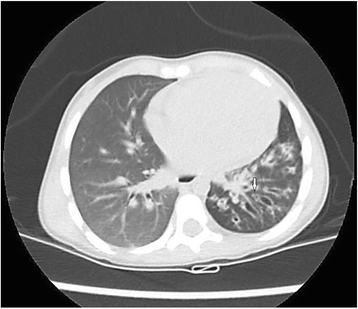 Mosaic perfusion defects and air trapping on expiration can also be observed.
Although a tendency to certain distributions has been described in groups of patients with specific conditions, the localization and pattern of abnormalities on HRCT is not necessarily linked to the etiology [6, 20].
Several radiographic scores such as Bhalla, Nathanson, Reiff, and Webb's scores, use combination of CT findings as markers of disease extension and severity [21–24].
Bhalla score is a commonly accepted score for children. It includes several items such as:
a) severity of bronchiectasis; b) peribronchial thickening; c) extent of bronchiectasis (number of lung segments); d) extent of mucus plugs; e) abscesses or sacculations; f) generalities of the bronchial division involved (bronchiectasis/plug); g) number of bubbles; h) emphysema (number of lung segments); i) collapse/consolidation [24, 25].
According to Goyal and colleagues, HRCT should be considered in every child with a chronic wet cough persisting after 4 week of oral antibiotics [26]. Nevertheless, false negative results in children may be caused by motion artifacts or poor collaboration, therefore an evocative clinical history should suggest diagnosis even in absence of the above-mentioned radiological criteria.
In recent years, chest magnetic resonance imaging (MRI) has been proposed as a radiation-free technique for the assessment and follow-up of several chest disorders.
Montella et coll. in a recent prospective study have shown that high-field 3.0-T MRI had a good correlation with HRCT in identifying bronchiectasis and the commonest alterations related to non-CF lung disease (mucous plugging, peribronchial wall thickening, consolidation, bullae, abscesses and emphysema) [20, 27].
Similarly, Maglione et al. in their recent comparative study of PCD and FC highlighted an excellent agreement between MRI and CT for most abnormality parameters in both diseases [28].
Moreover, for some findings such as mucus plugging, MRI may be more helpful and informative than HRCT, thanks to the high protonic density of mucous, which is more easily distinguished from bronchial wall thickening. Consequently, MRI may be more sensitive in detecting early airway wall changes and mucus retention that may precede more serious structural damage in the larger airways.
In addition, MRI may identify some functional aspects of lung tissue such as lung perfusion or ventilation and since it does not expose the patient to ionizing radiation, it may be particularly useful in the long-term monitoring of lung diseases [29]. Nevertheless, MRI has less sensitivity in detection of peripheral bronchiectasis without bronchial wall thickening or nodules smaller than 5 mm.
Spirometry can be useful to give additional and functional information on disease severity in older children and can reveal either an obstructive or mixed obstructive/restrictive airflow pattern.
Several evidences indicate that reduced FEV1 is associated with more severe disease and severity of structural abnormality highlighted with HRCT, but it does not always correlate with the clinical course and it has a poor sensitivity in detecting exacerbations [30].
Furthermore, spirometry performed during radiological examinations (chest CT and MRI) can improve image quality and the detection of bronchiectasis so it is useful in order to standardize lung volumes [31].
Other tests such as measurement of static lung volumes and the 6-min walk test may be used to assess functional impairment. Exercise testing may be more informative than static spirometry in assessment of lung function, especially in patients whose performance or symptoms do not correlate with spirometric findings [32].
In the last years, there has been a growing interest in the multiple breath inert gas washout (MBW), a technique used to quantify ventilation heterogeneity, which is considered an early sign of chronic obstructive lung diseases such as asthma and cystic fibrosis. Airway narrowing due to mucus retention, inflammation and airway wall structural damage causes inhomogeneity of lung ventilation. This inhomogeneity compromises the gas mixing efficiency of the lung and can be measured by following the washout of an inert gas during tidal breathing. In particular, lung clearance index (LCI) is a measure of lung physiology derived from multiple breath washout tests and is defined as the cumulative expired volume (CEV) at the point where end-tidal inert gas concentration has fallen to 1/40th of the starting concentration, divided by the functional residual capacity (FRC).
Moreover, since only tidal breathing is required, LCI is simple and reproducible hence it is ideal for use in children [33].
Recently, some study have showed that in non-CF bronchiectasis LCI correlates with CT severity score and with spirometric markers of airway obstruction. In addition, these parameters are abnormally increased in a significant percentage of non-CF bronchiectasis patients with a normal FEV1. These findings suggest that LCI may be a potential marker of disease severity and a useful index of airflow obstruction, although further studies are required to validate this hypothesis [34].
Bronchoscopy is helpful to identify underlying structural anomalies and to obtain lower airway secretions in children unable to expectorate [35]. A retrospective study involving 93 children with wet cough showed that flexible bronchoscopy with bronchoalveolar lavage (BAL) is more sensitive than HRCT in detecting airway abnormalities therefore both these tools should be complementary to confirm the diagnosis and to assess the disease severity [36].
Finally, bronchiectasis may be considered as the result of an altered balance between degradation and deposition of the extracellular matrix resulting from a modification of the relationship between metalloproteases and their tissue inhibitors. For these reason, the detection of metalloproteases (MMP-9) in exhaled breath condensate could be a useful marker of airway injury in patients with NCFB [
37
].
Table 2
Most common findings of NCFB in children
| Symptoms | Clinical indicators of exacerbation | HRCT findings | Most common isolated bacteria |
| --- | --- | --- | --- |
| Chronic wet cough | Increase in frequency of cough | Bronchial dilatation | Haemophilus influenzae |
| Recurrent chest infections | Change of cough character | Bronchial wall thickening | Streptococcus pneumonia |
| Exertional dyspnea | Increase in crepitations | Lack of normal bronchial tapering | Moraxella catarrhalis |
| Recurrent wheezing | Wheeze | Signet ring sign | Staphylococcus aureus |
| Delayed growth | | Bronchi visible closer than 2 cm to the pleural surface | Pseudomonas aeruginosa (in older children) |
| Chest wall deformity | | Broncho-arterial ratio > 0,8 | |
Conclusions
NCFB is an emerging pediatric disease whose prevalence is probably underestimated worldwide.
The most common causes include infections, immunodeficiency, recurrent aspiration and primary ciliary dyskinesia. An early diagnosis is essential to prevent a progressive decline in lung function and recurring exacerbations that are inevitably associated to a poorer quality of life.
An etiological diagnosis is also essential in order to improve the course of the disease by using specific therapy (e.g. specific replacement therapy in some immunodeficiency cases or anti-acid treatment in recurrent aspirations with gastroesophageal reflux) (Fig. 2).
The use of HRCT represents the gold standard to confirm the diagnosis although magnetic resonance imaging (MRI) could be a promising radiation-free technique to identify NCFB and to follow its evolution over time.
Actually, the pillars of treatment are represented by targeted antibiotic therapy in combination with airway clearance techniques. Prolonged antibiotics are often necessary to decrease the bacterial load, therefore the risk of emerging drug resistances should not be overlooked. Inhaled antibiotics, inhaled hypertonic and inhaled mannitol can be useful instruments in improving the quality of life.
Finally, Azithromycin and other macrolides seem to reduce the frequency of event-based exacerbations compared with placebo, therefore it may be a precious option in NCFB management.
Abbreviations
ACT:

Airway clearance techniques
BAL:

Bronchoalveolar lavage
HRCT:

High-resolution computerized tomography
MRI:

Magnetic resonance imaging
NCFB:

Non-cystic fibrosis bronchiectasis
PCD:

Primary ciliary dyskinesia
Declarations
Acknowledgements
Not applicable
Availability of data and materials
Not applicable
Authors' contributions
MG performed the literature review. GR coordinated the writing group. All authors critically reviewed the manuscript, read and approved the final version.
Ethics approval and consent to participate
Not applicable
Consent for publication
Not applicable
Competing interests
The authors declare that they have no competing interests.
Publisher's Note
Springer Nature remains neutral with regard to jurisdictional claims in published maps and institutional affiliations.
Open AccessThis article is distributed under the terms of the Creative Commons Attribution 4.0 International License (http://creativecommons.org/licenses/by/4.0/), which permits unrestricted use, distribution, and reproduction in any medium, provided you give appropriate credit to the original author(s) and the source, provide a link to the Creative Commons license, and indicate if changes were made. The Creative Commons Public Domain Dedication waiver (http://creativecommons.org/publicdomain/zero/1.0/) applies to the data made available in this article, unless otherwise stated.
Authors' Affiliations
(1)
Pediatric Unit, Department of Medical and Surgical Sciences, S. Orsola – Malpighi Hospital, University of Bologna, Bologna, Italy