Food allergies in school: design and evaluation of a teacher-oriented training action
Italian Journal of Pediatrics
2014
40:100
Received: 17 February 2014
Accepted: 24 November 2014
Published: 4 December 2014
Abstract
Background
Food allergies are perceived as a significant problem in school environments; as a result, a teacher's ability to recognise and deal with allergic reactions is of fundamental importance to protect children's health. This paper includes the results of a study conducted for the purposes of designing, implementing and monitoring a specific set of teacher-oriented communication actions.
Methods
The study involved designing, implementing and assessing five workshops. These workshops were designed on the basis of the analysis of perceptions and information needs investigated by three focus groups (25 teachers). The level of the teachers' knowledge and appreciation of the workshops was evaluated by using two structured questionnaires (n = 158).
Results
The teachers feel that they are insufficiently informed about food allergies; this knowledge gap is confirmed by an analysis of their knowledge before participating in the workshops. According to the teachers, the information which would be most useful to them has to do with the practical management of allergies in school. They feel that there is a lack of a professional contact person for precise and reliable information on health issues. The workshops seem to be appreciated as an information method. In addition, there appears to be a need to involve all children in awareness raising activities and education projects on this subject.
Conclusions
There is an urgent need for training actions on food allergies in Italian schools, in particular the communication of practical information regarding the management of allergies and emergencies. More communication between the medical and school staff is, in particular, advisable.
Keywords
Food allergiesTeacher-oriented trainingFocus groupsCommunication actions
Background
Food allergies are a serious public health issue, with an estimated incidence ranging from 3% to 6% of the general population [1]; they also have significant impact in terms of quality of life for allergy patients [2],[3]. Several studies have underscored the increase in these pathologies [1],[4]-[6]; moreover, recent data show that the concern regarding the possibility of an allergic reaction has significantly risen in Europe between 2005 and 2010. More specifically, Italian citizens appear to be the most concerned on this issue [7]. Children are more affected by food allergies than adults [8], and school is definitely a setting where children spend a lot of time and where they come into contact with various kinds of food.
Some studies have shown that nearly one fifth of children suffering from food allergies have experienced at least one allergy reaction in school [9],[10]. Moreover, food allergies are one of the most frequent causes of anaphylaxis [11]-[13] and – as such – they may also affect children who have not been previously diagnosed with any allergy.
Given that the symptoms of an allergy reaction usually appear very rapidly, namely between 5 and 30 minutes following exposure to the allergen [2], it is of fundamental importance for teachers to promptly recognise and deal with such events. It is true that most allergic reactions do not result in anaphylactic shock, however some studies have shown that nearly one third of anaphylactic reactions with a fatal outcome occurring in school are mainly associated with a delayed response [14],[15]. As a matter of fact, it appears that teachers are not always trained to deal with this kind of situation [16],[17].
Although several studies and communication actions have been targeted to parents of allergic children [18]-[21], less attention is given to specifically targeting teachers, even though a number of studies have highlighted the need to implement training actions for this professional group and for the school staff in general [16],[22]-[24]. Training is a prerequisite not only in order to make sure that the school staff is more attentive to this issue, but also to help teachers, parents and children reduce the feeling of anxiety which is brought on by this pathology [3]. Food allergies, indeed, can have a substantial impact on the quality of life of the child and the whole family [25]. This is because they limit the range of potential daily activities in addition to having a psychological effect due to the feelings of anxiety and depression that they tend to cause [26]-[29].
In 2005, the Ministry of Education, in collaboration with the Ministry of Education, University Studies and Research, issued recommendations containing the "Guidelines for the definition of actions to assist students that require drugs during school hours in order to protect their rights to education, health and well being within the school environment". Each regional council, at its own discretion, may apply the specifications of the Ministry through a decree; this must be immediately followed by a memorandum of agreement between the Region and the regional school office which will regulate the entire procedure for administering drugs during school hours.
In Italy few actions have yet been implemented for the purposes of raising awareness and educating school staff about food allergies [30]. This paper includes the results of an intervention study which was developed in order to involve and inform teachers who mainly work in primary school about the risks associated with food allergies.
Purpose
The study had three main goals:
studying the teachers' perception, experience and information needs, in order to design a suitable communication action in line with the requirements of the target group;

designing, implementing and monitoring a specific set of teacher-oriented communication actions;

giving teachers access to educational materials aimed at raising awareness among them and among pupils with regard to food allergies.
Results
Focus group
The three focus groups involved 25 teachers, all female, mainly aged between 36 and 55 (72%), in line with the gender and age of Italian primary school teachers [35]. It appeared that 15 out of 25 teachers are in charge of the children also during mealtimes in the canteen. The difficulties associated with managing allergies in school and the information needs on the part of teachers were the two main topics which clearly emerged from the focus group analysis.
Allergies in school: operational difficulties, competence and responsibility
As regards the management of allergies in school, teachers reported that they are concerned about some practical issues. An emergency becomes difficult to deal with in those cases where a teacher, who is in charge of the class on her own, at the same time has to handle the emergency and keep the other children under control. Moreover, a teacher is not allowed to administer any kind of drug, except in specific cases, and therefore his/her range of action is limited to first aid and to calling for help. In addition, teachers are aware that they do not have sufficient knowledge on this topic. This lack of knowledge causes a feeling of insecurity and inability to correctly manage an emergency situation. Finally, the teachers do not feel prepared to take responsibility for the management of potential allergic reactions, both because they consider it a responsibility which extends beyond their duties and because it involves excessive emotional involvement and worrying. A few comments in this regard are listed in Table
3
.
Table 3
Difficulties on the part of teachers in managing allergies in school: a selection of comments made during the focus groups
| Comments | |
| --- | --- |
| Operating difficulties in school | "Emergencies scare us also because we are always face to face with the class … it is very difficult to deal with an emergency because you are on your own" (focus group in Turin) |
| | "Our hands are somewhat tied: we are often scared but there is not much we can do" (focus group in Rome) |
| Teachers' skills and responsibilities | "We did receive some training in first aid; however, I am not a doctor and I cannot be forced to do this sort of thing …" (focus group in Rome) |
| | "Information on a personal level is extremely welcome, of course … when it comes to taking action, it is tough, I am not sure I feel up to it because there is also an emotional element involved; they cannot force me to do something if I don't feel up to it…" (focus group in Turin) |
| | "These responsibilities are not part of a teacher's assignments…" (focus group in Turin) |
| | "We are not doctors, so I think that these things ought to be done by someone specially appointed, we are still teachers. I cannot do a doctor's job" (focus group in Rome) |
The teachers stressed the importance of involving all children in awareness-raising activities on allergies, not only in order to encourage empathy between allergic children and their schoolmates, but also for the purpose of helping all children become familiar with a problem which could affect them personally.
Sources of information
The main sources of direct information appear to be the parents of allergic children. If they have doubts or queries, teachers may also turn to their colleagues, or friends and family members who have experienced similar problems. Generally speaking, teachers feel that there would be a need for a reference such as the school doctor for specific questions and in case of need. Contact with local health units (ASL), as a matter of fact, is limited to serious and certified situations.
With regard to the ways in which they would prefer to receive information about these topics, the teachers, first of all, mentioned direct meetings with experts to whom they could ask questions and receive targeted information. Secondly, the teachers would like to have an information desk available through which they could contact experts in the sector by telephone or through the internet. A further possibility mentioned was the setting up of an online database where they could find practical information and a description of similar case studies.
Information needs
In order to most effectively develop the workshops that were planned for the project, the knowledge needs of the teachers were investigated. The topics about which the teachers asked to be informed are:
difference between allergy and intolerance: understanding the differences both as regards reactions in the body and symptoms;
indications as to the kind of food which is most at risk: what kinds of food are potentially allergizing;
indications as to how to recognise an allergic reaction: what can the symptoms be; what can the reaction times be; understanding how serious an allergic reaction may be and its potential development over time;
basic strategies regarding the management of allergies in school: first aid induction, as well as any instruction in respect of behaviours and actions which could worsen an emergency situation and should thus be avoided.
Information workshops
The ex-ante and ex-post questionnaires were filled out by 158 teachers, most of them female, aged between 36 and 55 (Table
4
).
Table 4
Characteristics of the sample (n = 158)
Characteristics

%

Gender

Male

4.5

Female

95.5

Age (groups)

< 35

10.4

36 – 45

27.9

46 – 55

43.5

> 55

18.2
Teachers' experience
In total, 72.6% of respondents reported having had children suffering from food allergies or intolerance in their teaching experience; in 44.7% of cases one or two of them, in 31.6% of cases between three and five, while in 23.7% of cases more than five.
As for the question "As a teacher, do you consider that food allergies are regarded as a significant issue in school?" (Likert scale: 1 = not significant, 10 = highly significant), the respondents' mean score was m = 7.6 (SD = 2.1).
Moreover, 27.8% of teachers had already taken part in workshops/training courses on the subject as opposed to 72.2% who had never taken part.
Knowledge
Before the seminar started, the teachers were asked for a self-assessment of their level of knowledge on food allergies. In answer to the question "How do you consider your level of knowledge of the subject?" (Likert scale: 1 = very low, 10 = high), the mean score attributed to teachers in relation to their preparation was m = 5.1 (SD = 2.1).
In general, the assessment of ex-ante knowledge showed that, out of 28 knowledge questions, in 16 cases more than 50% of teachers got the answer wrong. The topics where the most serious shortcomings became apparent were first aid, the concept of dose, the development of allergies over time, and milk as a kind of food which may cause allergies or intolerance (Table
5
).
Table 5
Subjects and questions in which the teachers made the most mistakes ex-ante
| | Correct answer | Wrong answer% |
| --- | --- | --- |
| First aid | | |
| Self-injectable adrenaline should be administered… | Using a syringe, directly through the clothes (e.g. trousers) | 84.2 |
| Where should adrenaline ideally be injected? | In the muscle on the side of the thigh | 75.9 |
| The adrenaline normally used for emergencies in the case of anaphylactic shock with a self-injecting syringe … | Has a fixed dose | 64.6 |
| Is a teacher allowed to administer adrenaline to a child suffering from anaphylactic shock? | Yes, provided that s/he has been duly trained and authorised by the child's parents | 55.1 |
| In case of anaphylactic shock with breathing difficulty and/or dropping of the blood pressure what is the drug of choice which should be used? | Adrenaline | 53.8 |
| Dose and development over time | | |
| With age food allergies … | May disappear | 76.6 |
| If you are hypersensitive to a certain type of food … | It is possible that as you grow older the allergy may disappear | 56.3 |
| The dose which triggers a food allergy in an allergic subject … | Depends on the patient | 53.2 |
| Milk-related allergy and intolerance | | |
| To cure a patient who is intolerant to lactose, the best strategy is … | Avoiding the type of food or ingredient to which s/he is intolerant | 63.9 |
| Milk may cause … | Both intolerance and allergy | 63.3 |
| Intolerance to milk is due to … | Sugar (lactose) in the milk | 60.1 |
The knowledge level was assessed by comparing the answers to the 28 multiple-choice knowledge questions included in the ex-ante and ex-post questionnaires. Two "addition" variables were constructed to calculate the number of correct answers given before and after the workshop respectively. On the basis of these variables, four knowledge classes were defined. After the workshop, there was a noticeable shift of the number of correct answers towards the two groups "satisfactory knowledge" and "good knowledge" (Figure
1
). More specifically, it emerged that in 72.2% of cases there was a variation in the number of correct answers, while on the other hand in the other 27.8% of cases the results did not change (ZW = −9.77, p = 0.000). This change was not due to neither the age of the respondents (χ2 = 6.188, p = 0.402), nor related to whether they had participated in past training courses (χ2 = 0.143, p = 0.931).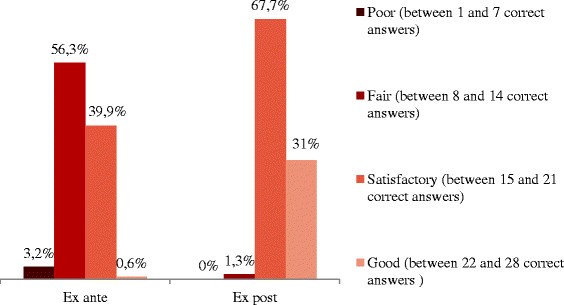 Assessment of the workshop
As for the questions "Have the presentations by the experts responded appropriately to your information needs?" (available responses: yes, totally; yes, sufficiently; not much; not at all), in total 41.3% of respondents answered yes, very much; 52.9% yes, sufficiently, and 5.8% not much.
As regards the relevance of the topics dealt with compared to the respondents' training needs (Likert scale 1 = not particularly relevant, 10 = extremely relevant), the mean score amounted to m = 8.4 (±1.66), while the usefulness of the workshop in terms of individual training (Likert scale 1 = not particularly useful, 10 = very useful) showed a mean score amounting to m = 8.6 (1.67).
Discussion
The data collected for this survey showed a need for communication and training actions geared towards the professional category of teachers. As a matter of fact, even though the latter are in contact with children on a daily basis, they are still insufficiently viewed as a target for communication actions. The research results show that, even though the issue of food allergies is generally perceived as significant, less than one third of the teachers has taken part in specific seminars and courses. This information gap seems to be strongly felt by teachers, who on average do not consider themselves sufficiently prepared on the topic of food allergies and intolerance. This result is in line with that obtained by Ercan in [17]. When asked, in fact, what their reation would be in the case of an anaphylactic reaction on the part of a student, less than 25% of the teachers involved declared that they would provide first aid.
This shortcoming is also confirmed if one considers the teachers' knowledge level before and after taking part in the workshops. Other studies have revealed insufficient training on the part of school staff members, which could have serious repercussions in terms of managing the problem in school [2],[16]. These results emphasize the need for specific educational actions and improvements in school health policies in order to support schools to deal with allergic students and ensure their safety and psychological well-being [30].
An important consequence of such lack of knowledge - and of the perception on the part of teachers that they are not adequately trained - is a feeling of concern and of difficulty in managing possible allergy cases. The need to receive practical information on how to manage allergies, which emerged from the focus groups, was discussed during the workshops. Another important aspect emerging from the focus groups is the importance which teachers attribute to sharing experiences regarding similar cases with friends, family members and colleagues in order to receive information about these problems. The suggestion of a database containing practical instructions and case histories experienced by other teachers confirms the need to discuss and share their experiences, even from an emotional viewpoint.
The teachers, moreover, underscored the importance of the expert's role in order to have reliable information on the subject. Training workshops - during which it should be possible to discuss any doubts and specific questions with specialists in the sector - seem to be, in the teachers' opinion, an effective method to acquire information. The workshops organized in the project, in fact, were highly appreciated by participants who confirmed their usefulness. The wish expressed by teachers to talk to experts goes beyond the specific occasion offered by a meeting. According to the teachers, it would be important to have a point of reference for health issues such as food allergies. Training and education on this topic, indeed, need to be continuous and require on-going updates, even in relation to specific allergy cases in a school and their development over time [36]. Numerous studies, also at international level, have addressed the importance of a constant relationship between families, school staff and medical staff, in order to make sure that the problem is managed with appropriate collaboration [22],[37]. Communication between these various figures is a relevant aspect which would also need greater consideration, even within the Italian school setting.
During the focus groups with teachers, the centrality of the child was highlighted, not only in relation to an allergic child but in relation to all children. The interest on the part of teachers in awareness-raising actions and training projects aimed at involving children is a very clear indication which ought to be taken into account.
Conclusions
This study has surveyed the information needs of a group of primary school teachers in relation to food allergies; based on the collected information, training actions have been designed, implemented and monitored. The data analysis revealed some knowledge gaps on the part of teachers, and a lack of training action in this respect. These results underline the urgency of training actions specifically devoted to allergies in the school setting, aimed in particular at raising awareness among teachers, disseminating practical information for the management of allergy cases and emergencies as well as at clarifying the levels of responsibility involved in medical actions in a non-healthcare environment. The intervention study presented here showed some limitations due to its experimental nature on a limited sample; as a result, it is not possible to draw general conclusions from the results obtained for primary school teachers as a whole. However, the project development in its various phases may provide useful indications for an in-depth analysis of the topic in the Italian setting, as well as for implementing ad-hoc communications actions geared towards teachers, children and all families.
Declarations
Acknowledgements
We would like to thank the pediatricians, allergologists and experts who participated in the workshops and helped us in designing the survey. Thanks to all the teachers who took part in the project.
Authors' Affiliations
(1)
Health Awareness and Communication Department, Istituto Zooprofilattico Sperimentale delle Venezie, Padova, Italia
(2)
Dipartimento di ricerca biotecnologica e diagnostica specialistica, Istituto Zooprofilattico Sperimentale della Sicilia, Palermo, Italia
(3)
Dipartimento della sanità pubblica veterinaria, della sicurezza alimentare e degli organi collegiali per la tutela della salute, Ministero della salute, Roma, Italia
(4)
Controllo Alimenti e Igiene delle Produzioni, Istituto Zooprofilattico Sperimentale Piemonte, Liguria e Valle d'Aosta, Torino, Italia
Copyright
© Ravarotto et al.; licensee BioMed Central Ltd. 2014
This article is published under license to BioMed Central Ltd. This is an Open Access article distributed under the terms of the Creative Commons Attribution License (http://creativecommons.org/licenses/by/4.0), which permits unrestricted use, distribution, and reproduction in any medium, provided the original work is properly credited. The Creative Commons Public Domain Dedication waiver (http://creativecommons.org/publicdomain/zero/1.0/) applies to the data made available in this article, unless otherwise stated.